Fisk Names Roland Martin the University's Inaugural "Reavis L. Mitchell" Distinguished Scholar in Residence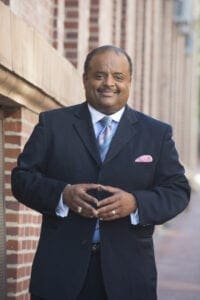 Fisk University is delighted to announce that renowned journalist and television personality Roland Martin will serve as the University's inaugural "Reavis L. Mitchell," Distinguished Scholar in Residence. Roland Martin will be teaching current affairs and will have an affiliation with the Fisk Honors Program.
According to Fisk President Vann Newkirk: "Roland Martin represents journalistic excellence, and we are excited that our student body and the overall Nashville community will benefit from his presence on campus. Fisk students are destined for leadership roles and it is important to continually invigorate the academic framework to provide them the best possible platform for success."
The late Dr. Reavis L. Mitchell was the embodiment of this commitment to academic excellence and student success.
Originally from Houston, Texas, Martin spent 13 years at TV One. From 2013 to 2017 he was the host/managing edition of NewsOneNow, the first daily morning news show, that focuses on issues of importance to African Americans. Prior to his work on NewsOne he served a four-year stint as host and managing editor of the "Sunday Morning Show," Washington Watch. In 2012 Jet magazine readers named him the most noteworthy news source in terms of who they turn to on issues of concern related to African Americans. Over his career, Martin has received more than 30 awards for journalistic excellence, including being named the Journalist of the Year in 2013 by the National Association of Black Journalists.