Fisk Four-Ever Pledge
The
4-Year Fisk
Graduation Pledge
Fisk is uniquely committed to your individual success and to making sure you maximize your Return on Investment.
Step 1 of that process is to excel academically and stay on track to graduate in 4 years. Follow the path below and you will succeed.
Step 2 is to take advantage of all the amazing opportunities that Fisk will provide you – from internships to mentoring, speakers, and leadership preparation.
Step 3 Fisk's commitment to your success extends far beyond the 4-year pledge as we will support you and your individual career objectives long after you leave the University.
RoadMap to Success
First-year:
Work with your Academic Advisor to identify and declare your Major
Begin addressing your core requirements
Explore other courses that might inspire your interests
Meet with your academic advisor to review the major map for the 4-year graduation path in your chosen field of study; this will also entail core requirements and required courses for progress to more advanced classes. Failing or dropping a class may delay graduation due to the required sequencing of classes
Successfully complete at least 30 credit hours
Second Year:
Follow the 4-year plan determined by the department of your major and reviewed by your advisor
Maintain your program's academic requirements and competencies
Successfully complete a minimum of 30 credit hours, which brings your total credit hours to 60 or more
Third Year:
Request a progress audit from your academic advisor
Meet with your academic advisor prior to registration to review the 4-year plan for your declared major
Successfully complete a minimum of 30 credit hours, which brings your total credit hours to 90 or more
Fourth Year
Apply for Graduation after completion of a minimum of 90 Credit hours and review your final degree audit with your advisor
Successfully complete a minimum of 30 credit hours, which brings your total credit hours to 120 or more
Celebrate!
*(some majors may require more than 120 credit hours)
Major Maps
We help students set their career goals and create a plan on how to get them there - determining which classes, experiences, connections, and skills will best serve as his or her stepping-stones to achieve that. Students will use major maps to find people, services, and events that will help them get the most out of their Fisk University experience.
The Fisk Masters Bonus
Automatic Admissions at half price:
Students who complete their Fisk education in four years with above a 3.0 GPA will be granted automatic admission into any of the following Fisk Masters programs.
Social Justice
Psychology
Executive Leadership*
Healthcare Management
*(pending SACSCOC approval)
*(Admission into these programs is based on availability and no outstanding balance)
Fisk University offers an array of unprecedented opportunities.
This Fisk Masters Bonus program is just one of these unique opportunities. Fisk has launched this half-price pathway program in order to further expand upon our commitment to delivering the highest return on investment of any University.
Our goal is to put you in the best possible position upon graduation from starting salaries and outstanding careers to graduate and professional schools.
Not only is Fisk offering a Master's at half the cost to its students after completing their undergraduate degree, but Fisk has also developed programs to give every student a competitive advantage regardless of their major or career path.
With an ever-changing and increasingly global world, it is crucial to be prepared. Fisk's liberal arts education teaches you to appreciate and inhabit different perspectives, which will serve you extremely well in the path to leadership. A graduate degree will increase those opportunities and we look forward to hearing from you.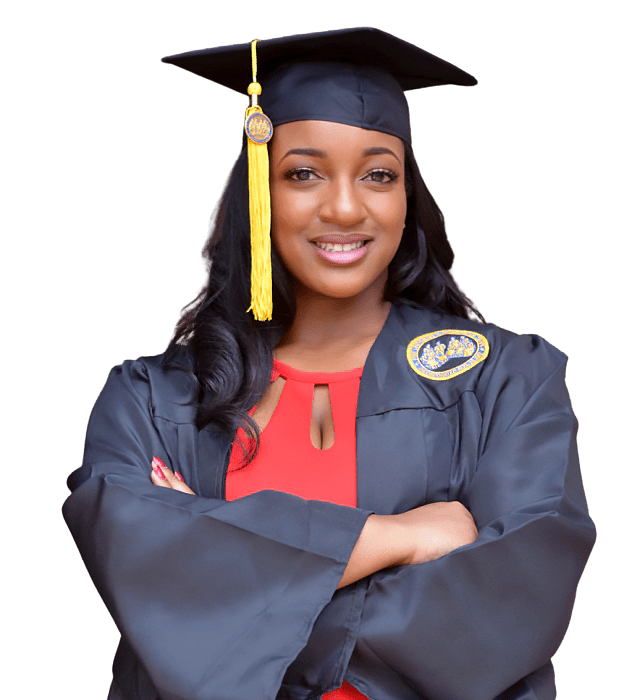 "I followed the 4-year pledge and I graduated with Honors. Having a defined plan was critical to my pursuit of law school and Fisk was a wonderful platform for me to realize my dream of becoming a healthcare attorney."
We are
Fisk.