Fisk Student Named Rhodes Scholarship Finalist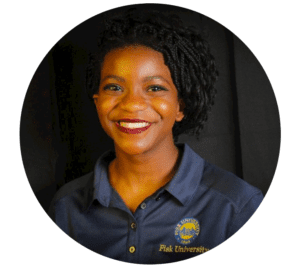 Nashville, TN –For the second consecutive year, Fisk University has produced a Rhodes Scholarship finalist nationwide.  Imani Campbell, a political science and history major and a member of the W.E.B. DuBois Honors College, was invited in November of 2020 to interview for what is widely considered the most prestigious academic scholarship available worldwide.  Ms. Campbell is, moreover, the third Fisk student to make it to the Rhodes Scholarships finals in the last two years.  In the winter of 2019, honors students Anisha Mittal and Jesus Murillo were the first Fisk students in decades to interview for a Rhodes Scholarship.  This year Ms. Imani Campbell, from Mississippi, became, significantly, also the very first African-American woman from Fisk University to make it to the Rhodes Scholarship finals.  Each year, across the nation nearly two thousand university students apply at the campus level and eventually approximately 190 college seniors/recent graduates are interviewed for the scholarship.  The prize provides two to three years of fully-funded graduate study at the historic University of Oxford in Oxford, England.  The highly competitive scholarship boasts that the standard grade point average of its winners, historically, is a 3.9.
The Rhodes Scholarship criteria include not only "academic excellence", but several other qualities related to moral and ethical leadership.  Based on the leadership expectations articulated in the Will of British colonial statesman Cecil J. Rhodes, after whom the country "Rhodesia" (now Zimbabwe) was once named, the Rhodes Scholarship recognizes and invests in young scholars who reveal a promise to "fight the world's fight" — individuals who demonstrate high "moral character", probity, "instincts to lead", "kindliness", "literary ability" and potential to "use one's energies to the full".  The Rhodes Scholarship further celebrates those who take an active interest in their peers or "fellows" and whose lives reveal that they will "protect the weak". Traditionally, an award for scholar-athletes, the Rhodes Scholarship recognizes not only leadership potential, but a certain well-roundedness in the awardees. It is this oldest international scholarship in the world, having been established in 1902.
Imani Campbell's accomplishments at Fisk University, in Greater Nashville and also back home in Mississippi reveal precisely why the Rhodes Scholarship organization would have wanted to interview her. A champion for childhood literacy and advocate for education equity, she took it upon herself to found the Reading Scholars Program to address these issues. Amongst her many other accolades, she is a longstanding scholar-athlete;  the Founder as well as Editor-in-Chief of Fisk University's TAKE THE HILL! Newsletter; and she is the author of a children's book titled My Classroom Bill of Rights.  A few years ago, a leadership and character award in her high school was actually named after her.
As a finalist in the U.S. 2021 Rhodes Scholarship competition, Imani Campbell actually made it as far as any student can make it without having actually received the coveted scholarship.  Consequently, she received a special commendation from the Rhodes Scholarship organization and was informed, like the other finalists nationwide, that her name has been officially entered into the Rhodes Scholarship's historic record of Rhodes Scholarship finalists.  Interestingly for Fisk, Ms. Campbell reveals that her impressive relationship with Oxford University and the Rhodes Scholarship is not completely over just yet.  She has been accepted, independently, to study at Oxford for a semester — based on a separate program which she applied to several months ago.
Regarding it all, the poised and humble Ms. Imani Campbell recently commented, insightfully:  "The Creed of the Rhodes Trust is to 'Stand Up for the World', and, no matter what, I hope that at the end of the day, my legacy shows that I've done just that."
The Fisk community has enthusiastically applauded Imani Campbell's efforts and her progress.  Dr. LaTanya Rogers, who is Director of the W.E.B. DuBois Honors College, recently remarked:  "Fisk and the Honors Program have a long-standing reputation for academic accomplishment.  We are so pleased that Imani's recognition as a Rhodes Scholarship Finalist invigorates new avenues of achievement for the brilliant students on campus. Ms. Campbell is a remarkable exemplar of tenacity and purpose."
Fisk Provost, Dr. Kenneth Jones, added:  "We could not be prouder of Ms. Imani Campbell.  The rare and coveted invitation which she received to interview for a U.S. Rhodes Scholarship is testament to the talent, smarts and drive of our students, the commitment and excellence of our faculty, and the longstanding stewardship, value, and worth of a Fisk education.  It is no wonder that we here have for many years proudly proclaimed 'Fisk Forever!'".
Famous Rhodes Scholars include President Bill Clinton; Senator Cory Booker; former United States Ambassador to the United Nations Susan Rice; former Senator and NBA Player Bill Bradley; singer/songwriter Kris Kristofferson; Secretary of Transportation Pete Buttigieg; feminist scholar Naomi Wolf; and ABC journalist George Stephanopoulos, amongst many others.  The first African-American Rhodes Scholar was Alain Locke, the renown literary scholar and "dean" of the Harlem Renaissance.  The first African-American woman to be named a Rhodes Scholar is Karen Stevenson, who won the prize in 1979 once the scholarship became open to women in 1977.  Karen Stevenson currently serves as a Trustee of the Rhodes Scholarships worldwide.