Fisk Alumna People-Waters becomes First elected Black female judge in Duval County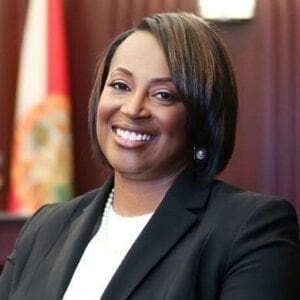 Fisk graduate Rhonda Peoples-Waters made history in Duval County (Jacksonville, FL) earlier this month when she was sworn in at the courthouse as the first elected Black female court judge in this county. People-Waters is not the first Black female in the role, as three others have been appointed, but she is the first Black female to be elected.
Rhonda is a proud Fisk alumna, receiving her B.S. degree in Business Administration from Fisk in1996. She later went on to receive her J.D. from the University of Florida in 1999.
People-Waters referencing her strenuous journey in obtaining this position said, "I do honor God and he must get the glory in this moment, after 18 attempts I stand before you today, as I am about to be sworn in." She was a finalist for judge nominations 13 times, only to be overlooked by governors. She ran for the office four times before finally winning the position.
In January, People-Waters finally took her seat as Judge People-Waters with friends and family beside her, becoming a part of the diversity the city wants in courtrooms. "I believe that judges are important parts of this community –servants of this community — and that's what I will look forward to investing and participating in," she said.
Fisk is excited to join People-Waters in celebrating this historic moment in time.