Chemistry Major
Chemistry
Chemistry is important, both as an area in liberal education and as a professional field. Fisk's Chemistry undergraduate program is on the approved list of the American Chemical Society (ACS)__a rare accomplishment for small institutions.
The Chemistry Department offers both undergraduate and graduate programs ( See, School of Graduate Studies, Chemistry) . The department's undergraduate offerings are designed to be serve three types of students: those who intend to pursue chemistry as a profession or to do graduate work in chemistry; those who need training in chemistry as part of their preparation for professional fields such as medicine, dentistry, nursing, and secondary school teaching; and those who wish a knowledge of chemistry as part of a liberal education. Students intending to major in chemistry should consult with a member of the chemistry faculty regarding a program of study.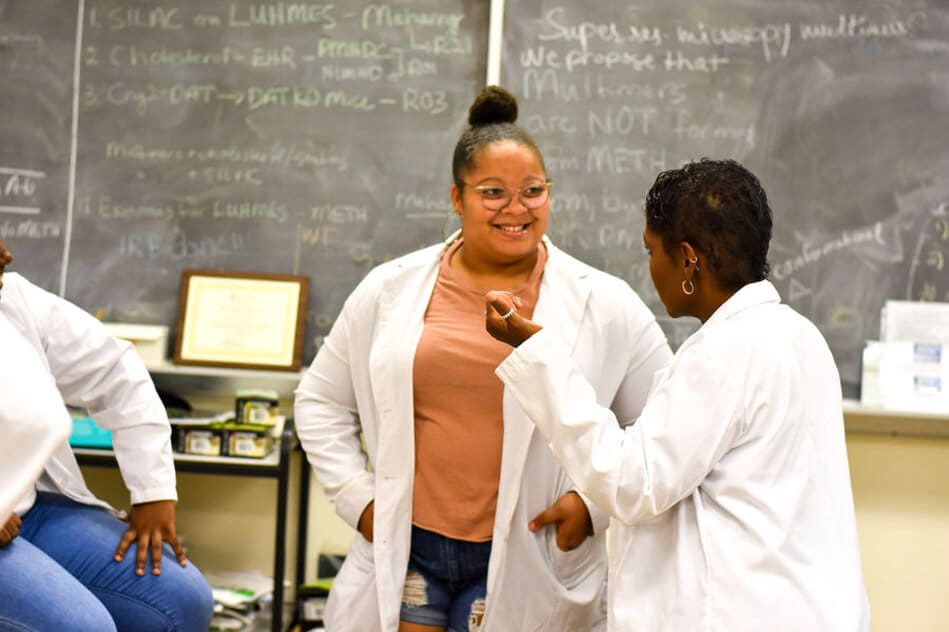 DEPARTMENT CHAIR
Steven Damo, PhD.
Welcome Statement
Welcome to the Department of Life and Physical Sciences, the home for Biology, Biochemistry and Molecular Biology, Chemistry, and Physics majors. Our department is interdisciplinary and our faculty are teacher-scholars that engage students using the latest pedagogical methods, conduct cutting edge research, and are committed to the development of students in both the classroom and laboratory. Feel free to explore our web pages to learn more. You can contact me or any of the discipline coordinators with any questions you may have. Fisk Forever.
Academic Discipline
A Chemistry degree gives you an excellent qualification for a wide career choice within science, industry or commerce. A Chemistry graduate is numerate, analytical, and practical and has good problem solving, presentation and communication skills. 
this month's featured student
While here at Fisk, I have been blessed with the opportunity of not only being able to nourish my love for science, but I have also been able to grow spiritually through our Chapel on campus. After graduating from Fisk, I will be continuing my education and plan to attend Nursing School in my hometown of Knoxville, Tennessee.