W.E.B DuBois Honors Program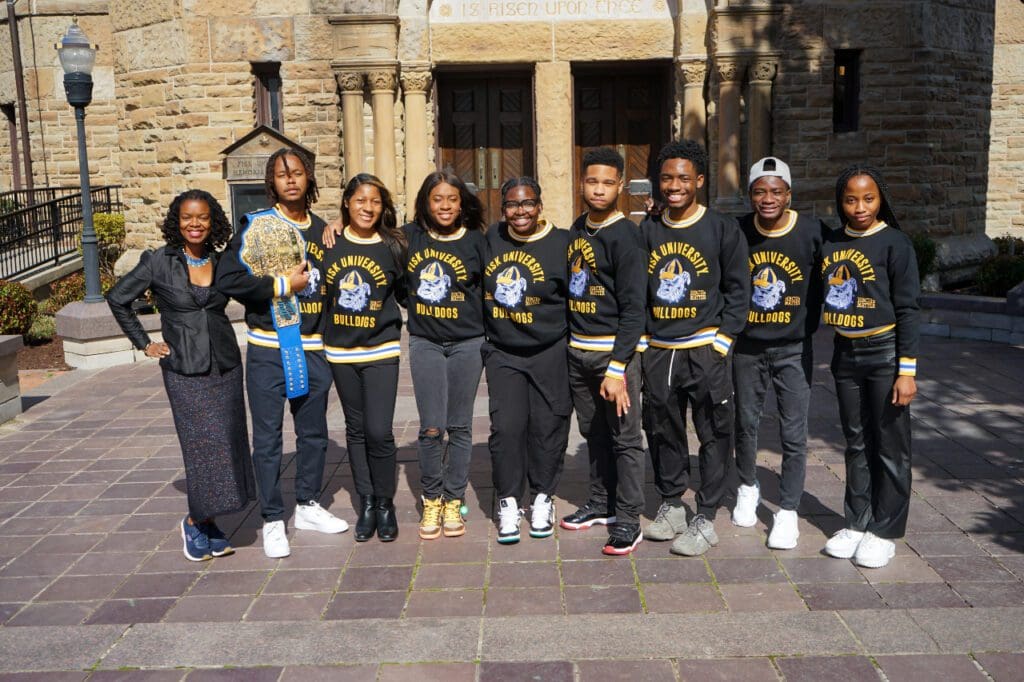 The W.E.B. Du Bois General University Honors Program, designed for students who have demonstrated academic capability, fosters excellence in scholarship throughout the student's college career by encouraging and promoting honors studies and activities in the total life of the University. 
The program gives concrete expression to the conviction that academic excellence is the hallmark of the institution's educational enterprise.  
Emphasis is placed on: 
Broadly defined educational experiences, intensive and extensive in nature;

 

Academic performance that is scholastically sound, clearly and effectively communicated, and relevant to the concerns of the times; 

 

Individual initiative, including self

-

organization and direction, coupled with cooperative teamwork in a community of scholars

 
 Benefits for Students in the Honors Program
Students who complete all requirements of the honors program graduate with "General University Honors," a designation that is listed in the commencement program and that indicates exceptional scholastic performance marked by individual initiative, creative ability, keen intellectual insight, and excellence in oral and written expression.
 In addition to this recognition, benefits to students in the honors program include:
24-hour access to the honors building, including a computer lab, a kitchen, and a quiet study space
An honors residence hall
Early registration (honors students can register for classes before the regular registration period opens)
An "Honors Student of the Month" featured on the Fisk website
Honors sections of CORE courses
Honors program apparel
Coaching and competitiveness to apply for prestigious scholarships 
W.E.B. DuBois Honors Program
Program Director
Our intuitive staff is ready and willing to speak with all students interested in the program.
LaTanya Rogers, Ph.D Director of W.E.B. Honors Program Associate Professor of Literature & Drama Email: Lrogers@fisk.edu
Requirements to Remain in the Honors Program
-Maintain a GPA of 3.5 or higher
-Attend campus events, including honors convocation, and complete community service hours each semester
-Complete a survey at the end of each semester
-Complete at least one of the honors program graduation requirements each academic year
-Students who do not meet these requirements will be placed on a one-semester probation. If the requirements are not met within that period, the student will be removed from the honors program.
Requirements to Complete the Honors Program with General University Honors
1. Complete either CORE 100-H (Honors New Student Orientation) or HON 111 (Introduction to the Honors Program)
2. Take at least one honors seminar at Fisk (counts towards the CORE curriculum)
3. Complete at least one of the following:
-Study abroad
-Complete a summer internship (approved by the honors director)
-Complete a summer research experience, at a university other than Fisk (approved by the honors director)
-Complete a substantial, individually-driven community service project (approved by the honors director)
-Take an additional Fisk honors seminar, or an honors seminar at Vanderbilt
4. Apply for at least one prestigious fellowship, selected from the list of the honors program website or approved by the director of the honors program
5. Complete a senior honors project, consisting of at least four credits (two semesters) of independent study. At least two credits must be completed by the end of junior year
Students interested in joining the W.E.B Du.Bois Honors Program can contact the program direction, Dr. LaTanya Rogers lrogers@fisk.edu . Current Fisk students with a cumulative GPA of 3.5 or above may apply to the honors program in the fall of your sophomore or junior year. You may also access the Honors Program Application here. Application closes June 1st for Fall semester and December 1st for Spring Semester.
Prospective students whose academic credentials are in the top 10%of all applicants will be invited to apply to the honors program in March
Class of 2019
---
Denise Buliga, Business Major
Honors Project: Ethical Data Collection in Tech Companies: An Examination of Modern Consumer Privacy
Jasmin Johnson, Business Major
Honors Project: Globalization and Income Inequality in Developing Nations: Examining the Correlation between the Gini Index and the Foreign Trade of Select Latin American Nations from 2004 to 2013
Donae McPherson, Psychology Major
Honors Project: The Effects of Understanding Emotional Actions and Behavior of Students in a Classroom Setting 
Emani Mhoon, Business Major
Honors Project: Can Women Have It All in the Corporate Workplace?
Bikki Nagarkoti, Computer Science Major
Honors Project: A New Platform for Fisk Research Symposium
Maretha Nevils, Political Science Major
Honors Project: The Dark Side of Gentrification
Sara Tsegay, Biology Major
Honors Project: Keeping It Moving: Genetic Analysis of the Dopamine Transporter Structure and Function in DAT-1 Coding Variants Derived from the C. elegans Million Mutation Project
 Dylanne Twitty, Psychology Major
Honors Project: The Impact of Eurocentric Beauty Standards on Minority Women: An International, Cross-Cultural Examination
---
Class of 2018
---
Christine Hale, Political Science Major
Honors Project: Establishing Black Twitter as a Digital Counter-Public and Political Mediator
Iyanna Hamby, English Major
Honors Project: Subversive Playwrights and Racial Tensions
Ami' Hanna-Huff, English Major
Honors Project: A Mermaids Tale: Examining Female Representation in Political and Economic Animation
Howsikan Kugathasan, Mathematics Major
Honors Project: Defending a Free Market in Human Kidneys
Kiana McClintick, English Major
Honors Project: Reflective Limits: Transnational Biraciality in Nella Larsen's Quicksand
Elijah Porter, English Major
Honors Project: The Curse of Mary Tyler Moore: The Effect of the Exclusion of Impoverished Women of Color from "Primetime Feminism"
 
Rahmi Pruitt, Computer Science Major
Honors Project: Detecting Bias in News Outlets using Framing and Web Scraping
 
Lynnette Robinson, Mathematics Major
Honors Project: The Association between Music, Social Media, and Drug Use among College-Aged
Joshua Williams, English Major
Honors Project: Fly in the Soup (a novel)
Class of 2017
---
John Jones, History Major
Honors Project: "Where Do We Go from Here: Relevance of Black Nationalism and Pan-Africanism"
Dukuzumurenyi King, Biology Major
Honors Project: "Plants and Humans Respond Similarly to Sound Waves"
Taylor Prescott, History Major
Honors Project: "Donald Trump and the History of Demagoguery"
 
Samanda Robinson, English Major
Honors Project: "Sequential Art and 'Strange Fruit': Trauma and Violence in Toni Morrison's Beloved and Octavia Butler's Kindred"
Class of 2016
---
Brianna Herman, Political Science major
Honors project: "Power Shift: The Battle between the United States and China"
Class of 2015
---
Chelsea Clark, Chemistry major
Honors project: "The Progress of Black Women following the Civil Rights Movement of the 1960s-1970s"
Bre'Shey Kimball, Psychology major
Honors project: "The Difference between Enclaves and Ghettoes and the Psychological Impact of Both"
Brea Martin, Psychology major
Honors project: "Project Revive [Suicide]"
Christine Smith, English, and Political Science major
Honors project: "Voting Rights Infringements Then & Now"
Toluwalashe Onasumi, Biology major
Honors project: "Mineral vs. Synthetic Makeup"
Christian Williams, Biology major
Honors project: "Alternative Methods of Treating Breast Cancer"
Class of 2014
---
Nyadow Chol, Biology major
Honors project:  "The Nuer Culture"
Roman B. Mitchell, Spanish, and Psychology major
Honors project: "The Underrepresentation of Black Coaches and the Exploitation of Black Student-Athletes in College Football"
Clementina Ojie, English and Business major
Honors project: "Four Black Women: A Collection of Original Stories"
Class of 2013
---
Keith Chandler
Honors project: "Solipsisms: A Collection of Poetry"
Brittney Miles
Honors project: "Bitch Bad? A Study of the B Word"
Sharaya Sims
Honors project: "African American Mother/Son Relationships and Attachments"
Class of 2012
---
Beatrice Adams
Honors project: "Reality Bites"
Jazmyn Frye
Honors project: "Makaveli in Context: Analysis of Tupac Shakur's Music in Determining the Factors that Influenced his Psychological Personality Type"
LaQuasha Logan
Honors project: "LOUD"
Cyntoria Meaders
Honors project: "Waiting for a Prince"
Class of 2011
---
Angela Addae
Honors project: "Social Entrepreneurs: Are They Achieving Their Goals?"
Liban Ahmed
Honors project: "Autism in Tennessee"
Desmian Alexander
Honors project: "Reinvention Road"
Gwendolyn Dinwiddie
Honors project: "Fisking: A Stageplay"
Tiarra Land
Honors project: "Always a Bridesmaid, Never a Bride: The Effectiveness of Marriage Counseling"
Amorya Orr
Honors project: "Mirrored Images: Aunt Jemima as a Descendant of the Mammy Image and the Effects of These Images on Society"
Carta Robinson
Honors project: "New Historicism and the Application of Fictional Text to the Thematic Elements of Caribbean History"
Tiffany Thompson
Honors project: "Atomic Force Microscopy Images of the Initial Growth of Carbon Nanotubes Annealed on Silicon Carbide"
Candace Warrant
Honors project: "Positive Youth Development and Delinquency Prevention"
National Fellowships
Fisk University has a distinguished historical connection to some of the most prestigious fellowships: Fisk University president Charles S. Johnson was a member of the inaugural Board of Foreign Scholarships for the Fulbright Program, and Fisk was among a group of universities that petitioned the Rhodes Trust to accept nominations of female students.
To continue this tradition, all Fisk students are encouraged to apply for the prestigious fellowships and scholarships listed below (and any others you may come across elsewhere). Students in the W. E. B. Du Bois Honors Program are required to apply for at least one prestigious scholarship in order to graduate with general university honors. For information on how best to prepare yourself to be a competitive applicant for these awards, click here.
Deadlines and Campus Contacts
For most of the fellowships listed below, you must first submit your application internally. This gives you the opportunity to receive feedback from faculty, when appropriate, and for the fellowship advisors to ensure that all parts of the application are complete. Once you have chosen an award, reach out to the faculty member listed as the campus contact. You should also discuss your plans with your academic advisor.
The Fisk University internal deadlines for the academic year 2019-2020 are:
Early Fall deadline. This year's deadline for the Rhodes, Marshall, Schwarzman, Gates-Cambridge, Pickering, and Mitchell has passed. Juniors intending to apply next year for the should be in touch with the primary campus contact no later than March 13, 2020. (The internal deadline for those fellowships will be September 11, 2020).
Early spring deadline: January 17, 2020. This internal deadline applies to the Goldwater, Truman, Udall, Mellon Mays, and the Frederick Douglass Global Fellowship
If you have further questions, please contact Dr. Patrick C. Fleming (pfleming@fisk.edu) or the campus contact listed on the specific fellowship.
 Prestigious Fellowships and Scholarships