The Fisk Jubilee Singers'® Album, Celebrating Fisk! (The 150th Anniversary Album), Wins GRAMMY® Award in Best Roots Gospel Album Category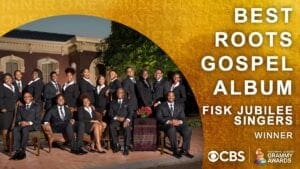 Nashville, Tenn. (March 14, 2021) — Fisk University is excited to announce a 2021 GRAMMY® win for the Fisk Jubilee Singers'® album, Celebrating Fisk! (The 150th Anniversary Album), in the Best Roots Gospel Album category. Listen to the album HERE. The Jubilee Singers worked with Curb Records to produce the album.
"I am very thankful to my students – 2016 and 2017 Fisk Jubilee Singers – Shannon Sanders, guest artists and everyone who contributed to us winning this award," shares Dr. Paul Kwami, Musical Director of the Fisk Jubilee Singers. "It is the first GRAMMY Award won by the Fisk Jubilee Singers in our 150-year history. The Fisk Jubilee Singers established and introduced a unique form of American music to the world in the 1800s and the legacy lives on!"
Once again, The Fisk Jubilee Singers have made Fisk proud and brought global recognition to the University. "This Grammy win has been 150 years in the making and it is reflective of the hard work and the fortitude of this group and Dr. Kwami," said Dr. Vann Newkirk, Sr., Fisk University President. "Fisk is extremely grateful to Curb Records for their involvement on this project and recognizing the role that the Jubilee Singers have played not only in Nashville, but for the entire music industry. We hope this achievement, and the Jubilee Singers continue to inspire young men and women everywhere."
The album, Celebrating Fisk! (The 150th Anniversary Album, is a collection of 12 songs that beautifully represents and communicates the powerful and vibrant history of Fisk University, Fisk Jubilee Singers, and the city of Nashville. It features the group from the stage of Nashville's historic Ryman Auditorium, with guest appearances by Ruby Amanfu, Keb' Mo', Lee Ann Womack, The Fairfield Four, Rod McGaha, Derek Minor, Shannon Sanders, Rodney Atkins, Jimmy Hall and CeCe Winans, and was produced by Shannon Sanders, Paul Kwami, Jim Ed Norman, and Mike Curb.
"How exciting for the Fisk Jubilee Singers to be recognized for their hard work and dedication, not only on this album, but throughout history," shares Curb Records Chairman, Mike Curb. "I have been blessed to work with Paul Kwami, who is a musical genius and a national treasure. This GRAMMY also honors Fisk University's 150th Anniversary, which is so important for Nashville and our entire country. This is a momentous day for Fisk, the Curb Records team, and everyone that has been part of this project."