Fisk University's Team Wins the Highly Coveted 2022 HBCU Battle of the Brains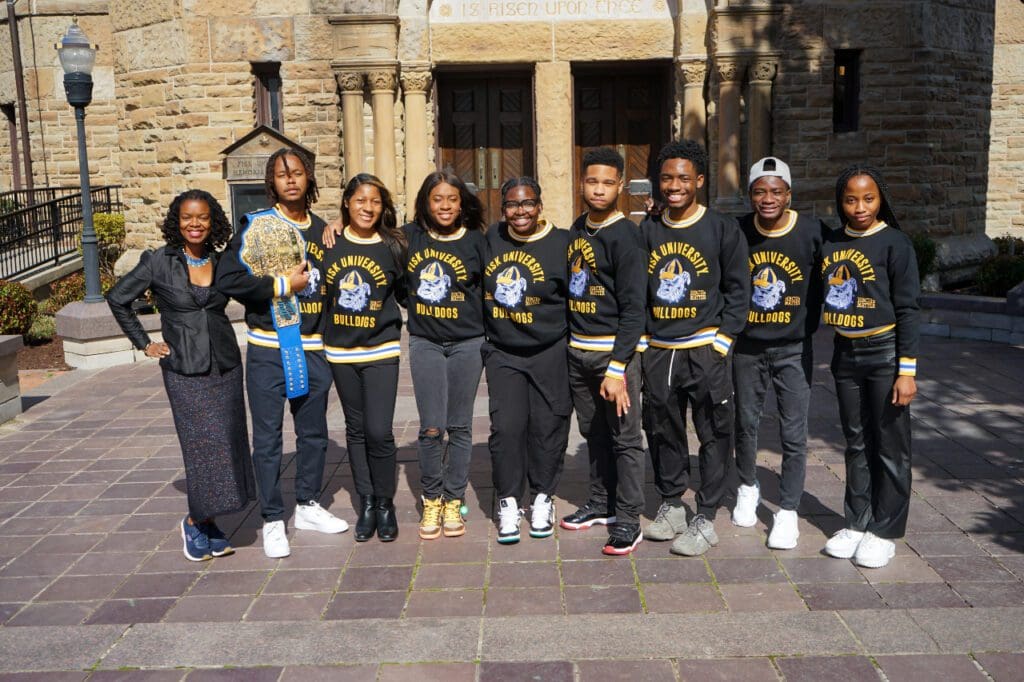 On the 9th of March 2022, Fiskites flew to Austin, Texas, to represent Fisk University at the weeklong HBCU Battle of the Brains Competition at SXSW, majorly sponsored by the National Football League (NFL). Fisk emerged 1st out of 30 colleges, winning more than $80,000. The students participated in a 24hr technology-and-problem-solving competition (hack-a-thon), which lasted from 7 am on Friday to 7 am on Saturday. They invented an innovative solution (and built an app!) that connects HBCU student talent to opportunities in the sports industry.
Gregory Gibson Jr., the founder & executive director of HBCU Battle of the Brains, created the competition to support the mission of HBCUs while giving exceptional business and STEM students within the African American community and technology industries a platform to shine. The HBCU Battle of the Brains also demonstrates the NFL's commitment toward innovation to help advance the sport. The week-long events (March 8-13, 2022) comprised events like company tours and recruitment sessions, a Disney on the Yard festival, an HBCU Homecoming, and a brunch engagement at Huston-Tillotson University with NFL executives, staff, and players. Google, Expedia Group, Dell, and other prominent companies co-sponsored the event.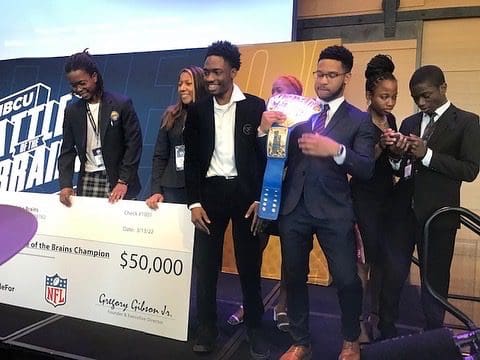 The Fisk University Team comprised an advisor: Dr. LaTanya Rogers, Associate Professor of English and Director of the W. E. B. Du Bois Honors Program, star students Chisom Okwor
(captain), Timothy Mazenge, Aminu Abdusalam, Daikerra Sweat, Jayla Williams, Tony Coleman, Sopuruchi Ndubuisi, and Elijah Okoro. The team from Fisk was awarded the Grand Prize of $50,000.  NFL player Marshawn Lynch added an additional $10,000 to the winnings.  During a session called the NFL Panel, The Come Up: Transition from the Field to the Boardroom, four-session panelists (Devale Ellis, Former NFL Player, Actor on BET and Tyler Perry hit show Sistas, author, and co-host of "Dead Ass with Khadeen & Devale"; Marcus Allen, NFL Player, Pittsburgh Steelers, Owner of Vibes Universal Apparel; Marcus Peters, NFL Player, Baltimore Ravens, Fam 1st Family Foundation Co-Founder, Owner of Juiceman Apparel; and Kelvin Beachum, NFL Player, Arizona Cardinals, and Investor) added another $5,000 each to the prize money.
In addition to the money, the Fisk student team won an all-expenses-paid Experienceship to the NFL Draft (April 24 – May 1 in Las Vegas), a fully-funded trip to the  Black Sports Business Symposium (June 16-18 at Mercedes-Benz Stadium in Atlanta, Georgia), a championship belt, and the newest Nike Air Jordan release shoes.
The team's success didn't end there as two of the six student participants won the Dell Success Scholarship during the event!
Dr. Rogers notes that "Gregory Gibson and his Battle of the Brains partners gave HBCU students a global platform to share their ideas. The Fisk win—and the product that our students delivered—is an exemplifier of the excellence in our student body.  Fisk professors are preparing students to tap into their best skills to create real-world solutions.  And then the students, all Honors Scholars with great chemistry, showed up and showed out!"
Our secret to winning: A well-balanced team and great chemistry!
Quotes from the Winning Team
"This was my first hackathon. As an art/design major and someone interested in tech, it was really awesome finding my place and value in the tech industry" Sopuruchi Ndubuisi
"HBCU Battle of the Brains was a once in a lifetime opportunity to work with a great group of people to bring the trophy home for Fisk" – Timothy Mazenge
"Truly a life-changing experience that every HBCU student deserves!" –  Chisom Okwor (team captain)
"HBCU Battle of the Brains was an incredible experience! It helped me form connections with other HBCU students and recruiters at prestigious corporations. This was a once-in-a-lifetime experience! I'll never forget. I'm happy that we won and made a more prominent name for Fisk! – Jayla Williams
"My biggest achievement in a long while. Describing the experience as invaluable is an understatement." – Aminu Abdusalam
"It's Not about what you know but who you know. Being at the HBCU Battle of the brains has taught me that your network is your NetWorth. Endless opportunities begin with you and the change that you want to be." – Daikerra Sweat
For more information, visit the HBCU Battle of the Brains and follow Twitter (@hbcubotbrains) and Instagram (@hbcubotbrains).
Natara Holloway, Vice President, Business Operations & Strategy, NFL
David Jurenka, SVP and General Manager of NFL Media
LaMar Campbell, NFL Legend and current Vice President of Player Engagement
Fireside chat with Natara Holloway, NFL Vice President, Business Operations & Strategy with Dr. Valerie Daniels-Carter, one of the most preeminent business owners in the U.S. who is President and CEO of V&J Foods, Holding Companies, Inc., and Board of Directors for the Green Bay Packers and minority owner with the NBA Champion Milwaukee Bucks;
Adrian Bracy, Author, and Motivational Speaker, whose earlier career included serving 18 years within the NFL as an Executive with the Miami Dolphins, Arizona Cardinals, and the St. Louis Rams (now Los Angeles Rams) during their first Super Bowl win.
Publications and Features
Fisk University Wins Prize at HBCU Battle of the Brains Presented by NFL (blackenterprise.com)
Fisk University Student Team Wins Top Prize at HBCU Battle of the Brains at SXSW Presented by the National Football League (nflcommunications.com)