Fisk University Receives $1.1 Million Dollar Gift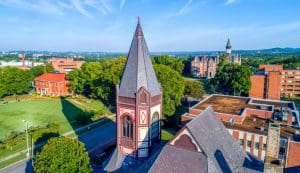 Fisk University is thrilled to announce a $1,100,000 gift from an anonymous donor. The donor identified the Fisk Vanderbilt Master's-to-PhD Bridge Program as the focus of the gift. Fisk's partnership with Vanderbilt University has long been a leading force in producing minority students who receive their PhDs in the STEM areas. This contribution will fund a total of 10 graduate students in astrophysics, physics, and materials science.
"We could not be more grateful for this gift and it is a powerful endorsement of the groundbreaking work that is coming out of the Bridge Program each and every year", said Fisk President Vann Newkirk.
Last year, Fisk experienced a significant surge in grants and the commitment to elite research and innovative scholarship remains a core tenet of the Fisk experience. According to Executive Vice President Jens Frederiksen, "this donation will change the lives of these students and further inspire Fisk's mission of preparing the next generation of executives and leaders across every sector of the economy."