3 Fisk Students Named as UNCF/Mellon Mays Undergraduate Fellows
Three Fisk students from the School of Humanities and Social Sciences were recently named as fellows for the UNCF/Mellon Mays Undergraduate fellowship. Sophomores Connor Joseph, Jasmine Mitchell, and Chaunece Reed were all selected based on their research, GPAs and references from their mentors.
The Mellon Mays Fellowship for undergraduates is a competitive program that aims to increase the number of talented, intellectually engaged undergraduates who choose to enroll in Ph.D. programs in the humanities, designated sciences and social science disciplines. The program awards students at the sophomore level who have a serious interest in pursuing the Ph.D. and becoming college professors. Fellows work closely with faculty mentors, participate in a summer institute, sharpen their research, writing and presentation skills and receive semester and summer stipends to assist with costs related to research and graduate school preparation.
Fisk University is part of a consortium of universities through the UNCF that maintains a consistent record of awarding undergraduate fellows. Dr. Katharine A. Burnett, the campus coordinator said "The Mellon Mays Undergraduate Fellowship is incredibly prestigious and an excellent opportunity for students interested in pursuing graduate studies in the Humanities and Social Sciences. Fisk boasts a long line of MMUF scholars who have gone on to programs at universities like Johns Hopkins and UCLA. It's exciting to continue this tradition of excellence with our new fellows."
Fisk University is pleased to announce three new fellows for the 2021 cohort: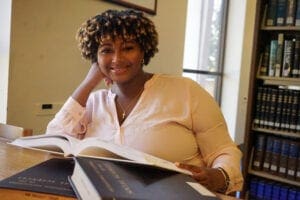 Connor Joseph ('23) is a Psychology major and African American Studies minor whose project examines the long-term professional impact of an HBCU education and professionalization. Her mentor is Dr. A. Hannibal Leach.
Jasmine Mitchell ('23) is a History major who plans to examine representations of black women in media and politics. Her mentor is Professor Linda Wynn.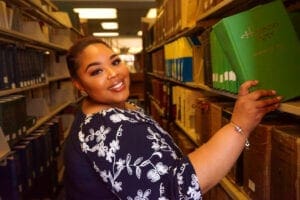 Chaunece Reed ('23) is an English major whose project analyzes the connections between anti-fatness, gender, and racism in popular culture and literature. Her mentor is Dr. Katharine A. Burnett.