Verification
Federal Verification Process
Federal FAFSA Verification 
Because students sometimes make errors on their applications, there is a process for verifying applications and making corrections. The Central Processing System (CPS) selects which applications are to be verified, but the school also has the authority to verify additional students. 
Schools must verify applications selected by the CPS of students who will receive or have received subsidized student financial assistance, as defined below. Verification is not required for students who are only eligible for unsubsidized student financial assistance. Students who are eligible for both subsidized and unsubsidized Title IV aid may not avoid verification by accepting only unsubsidized aid; they must complete verification to receive any Title IV aid. 
Verification tracking groups  
Students who are selected for verification will be placed in one of the following groups to determine which FAFSA information must be verified.  
 V1—Standard Verification Group. Students in this group must verify the following if they are tax filers:  
Adjusted gross income 

 

U.S. income tax paid 

 

Untaxed portions of IRA distributions 

 

Untaxed portions of pensions 

 

IRA deductions and payments 

 

Tax-exempt interest income 

 

Education credits 

 

Household size 

 

Number in college 

 
Students who are not tax filers must verify the following:  
Income earned from work 

 

Household size 

 

Number in college 

 
V4—Aggregate Verification Group. Students must verify their identity/statement of educational purpose (SEP).  
V5—Aggregate Verification Group. Students must verify identity/SEP in addition to the items in the Standard Verification Group (V1).   
Verification exclusions  
There are times when the school does not need to verify a student's application. The school is, however, still required to resolve conflicting information (except when a student dies during the award year or when he or she is no longer enrolled and will not re-enroll. You should document the basis for the verification exclusion. Other information not excluded must still be verified according to all other requirements.  
You don't have to verify FAFSA information of a student in the following situations:  
Death of the student. You don't have to continue verification if you made an interim disbursement and the student died before verification was completed. You cannot make any additional disbursements, except for FWS funds already earned, to any of the students' beneficiaries. You cannot originate or disburse his or her Direct Subsidized Loan or consider any interim disbursement you made of Pell or FSEOG funds or provisional FWS employment to be an overpayment. 

 

Not an aid recipient. The student won't receive Title IV aid for reasons other than a failure to complete verification. This includes being ineligible for that aid and withdrawing without receiving it. 

 

The applicant is eligible to receive only unsubsidized student financial assistance. However, students selected for V4 or V5 verification should complete it in accord with the answer to DOC-Q18 on the verification Q and A page. 

 
Applicant verified by another school. The student completed verification for the current award year at another school before transferring. His or her FAFSA data must be the same as it was at the previous school, and you must get a letter from that school stating that it verified the student's application and providing the transaction number of the pertinent valid ISIR. 

 

Post enrollment. The student was selected for verification after ceasing to be enrolled at your school, he or she does not intend to reenroll for the award year, and no further (including late) disbursements will be made.

 
Inceptia 
We are pleased to announce we have established a partnership with Inceptia to expedite the federal verification process for Fisk University. Verification Gateway (VG) from Inceptia is an online portal to guide students and parents through verification. 
If your FAFSA application is selected for verification by the U.S Department of Education, you will receive an email from VGCS@inceptia.org, or postcard from Inceptia, containing Fisk University's unique website link to start the verification process. 
We encourage you to begin the verification process within 7 days of receiving notification from Verification Gateway to ensure you receive your financial aid in time for payments. Failure to complete the verification process could result in the delay or denial of your financial aid. 
Follow these steps to complete your verification. 
Access

our school's unique website link in the email from

VGCS@inceptia.org

or use the sit listed below.

 

Create

your account and choose preferences for text messages and e-signatures.

 

Complete

your Task List.

 

Confirm

your signature and review your information.

 

Sign

your account.

 
*If you are a dependent student, one of your parents also needs to create their own account and complete each of these steps listed in the Task List  
Verification Gateway Links and Deadlines for Fisk University 
2023-2024 Federal Verification:  
https://fiskuniversity.verificationgateway.org  
Deadline for submitting these documents is September 2, 2023 
Example of
initial
Inceptia
webpage: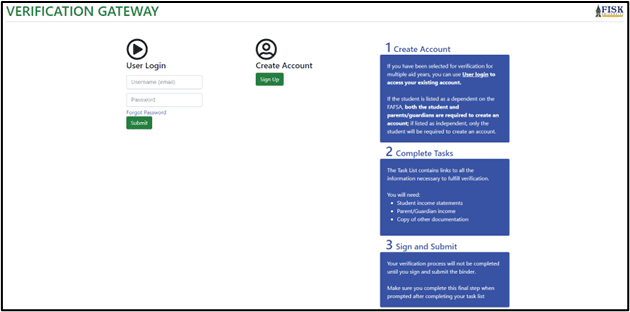 Questions about the verification process?  
Contact Inceptia, Monday through Friday 8 am – 7 pm Central at 888.374.8427 or VGCS@inceptia.org. 
About Inceptia  
Inceptia, a division of the National Student Loan Program (NSLP), is a nonprofit organization committed to offering effective and uncomplicated solutions in financial aid management, default prevention, and financial education. Our mission is to support schools as they launch brilliant futures for students armed with the knowledge to become financially responsible citizens. Learn more at Inceptia.org. 
Students' FAFSA information is made available to third-party servicers. Inceptia, a third-party servicer for Fisk University, has been contracted to complete the FAFSA Federal Verification process. 
Students have the option to "opt-out" of completing Verification with Inceptia and may request that the university completes the Verification.