Quality Enhancement Plan

The Fisk Quality Enhancement Plan (QEP), Tech Promise – Computational Thinking across the Curriculum, focuses on infusing Computational Thinking across the institution's curriculum over a five-year period (2022-2027).
The desired student learning outcomes will be:
Decomposition – Students will be able to break down a complex problem into subsets of smaller more manageable problems.
Pattern Recognition – Students will be able to find patterns within data or methods to solve the problem.
Abstraction – Students will be able to focus on key details and ignore irrelevant information.
Algorithm – Students will be able to take steps to solve each of the smaller, decomposed problems.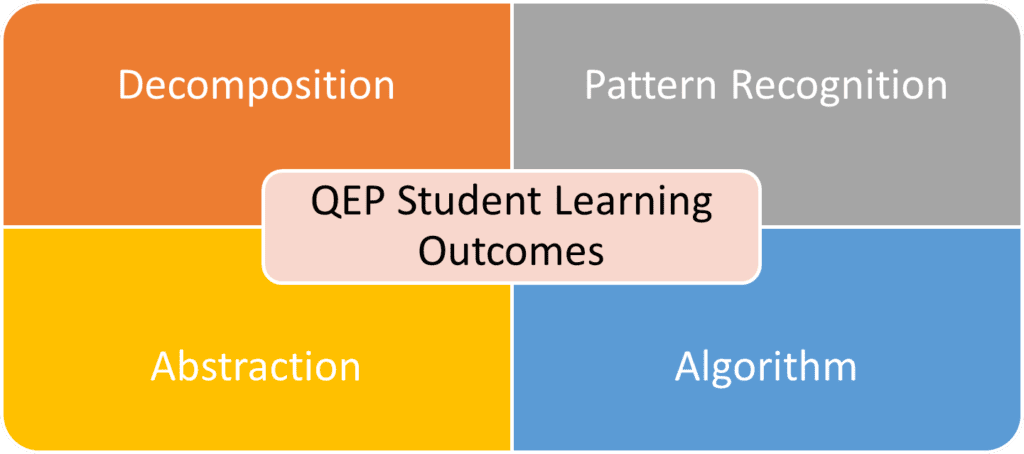 The outcomes will be achieved by offering a Technology Literacy Course for all incoming students to be taken during one of the first two semesters on campus that establishes baseline competencies in computational thinking and applications for all undergraduate students.
There will be pre- and post- assessments for the Technology Literacy Course; the assessments will include both content-based assessment and self-evaluation to determine competency and perception respectively. Moreover, there will be indirect assessments such as Senior Exit Surveys and participation in Annual Fisk Research Symposium.
The QEP is aligned with Fisk University's strategic plan in providing professional development opportunities for students to enhance their readiness for jobs and developing co-curricular opportunities that enhance students' career competitiveness.
---
Mission
Fisk University produces graduates from diverse backgrounds with the integrity and intellect required for substantive contributions to society. Our curriculum is grounded in the liberal arts. Our faculty and administrators emphasize the discovery and advancement of knowledge through research in the natural and social sciences, business, and the humanities. We are committed to the success of scholars and leaders with a global perspective.
Process of Identifying the Fisk University QEP
As stated in Standard 7.1, Fisk University follows the strategic plan for continuous improvement. During the initial stages of topic identification and selection, academic leaders across disciplines were engaged in an exploratory process. In Fall 2016, Dr. Rodney Hanley (Provost & Executive Vice President for Academic Affairs at Fisk University) invited all faculty to submit proposals for Quality Enhancement Plan. The communication strategies were as follows:
Emails were sent to all faculty members.
QEP proposals were invited during Faculty Assembly.
QEP proposals were invited during Academic Council (meeting of Discipline Coordinators, Department Chairs, and Deans).
The submitted proposals were distributed to all faculty and discussed at a QEP Planning meeting (Multipurpose Room, Spence Hall). There were several ideas and suggestions; however, two (2) major proposals were the final candidates:
Holistic Student Advising to Integrate Academic and Career Aspiration Mentoring, submitted by Dr. Lee E. Limbird (Professor and Dean of School of Natural Sciences, Mathematics, & Business)
Computational Thinking Across the Curriculum, submitted by Dr. Sajid Hussain (Associate Professor, Computer Science)
The assessment criteria for the QEP topic was as follows:
Aligned with Fisk Mission and Strategic Plan.
Congruent with emerging trends and 21st Century skills for college graduates.
Well-defined measurable student learning outcomes.
Sufficient background information to determine the baseline.
In Spring 2017, the QEP topic was finalized. Although Student Advising is very important for our students, and Fisk University continues to lead initiatives for faculty-based academic and Department of Career Services-supported career advising, there was a consensus for "Computational Thinking Across the Curriculum", and it was preliminarily chosen as the Fisk University Quality Enhancement Plan.
What is Computational Thinking?
"Computational Thinking is the thought processes involved in formulating problems and their solutions so that the solutions are represented in a form that can be effectively carried out by an information-processing agent."