ROTC Program
Fisk University

Army
ROTC
Our new partnership with the

Army ROTC,

through a Vanderbilt University consortium of universities, we will offer two new courses this fall taught by Army ROTC specialists.  Freshmen and sophomores who are serious about growing their leadership potential can enroll in the

ROTC

courses.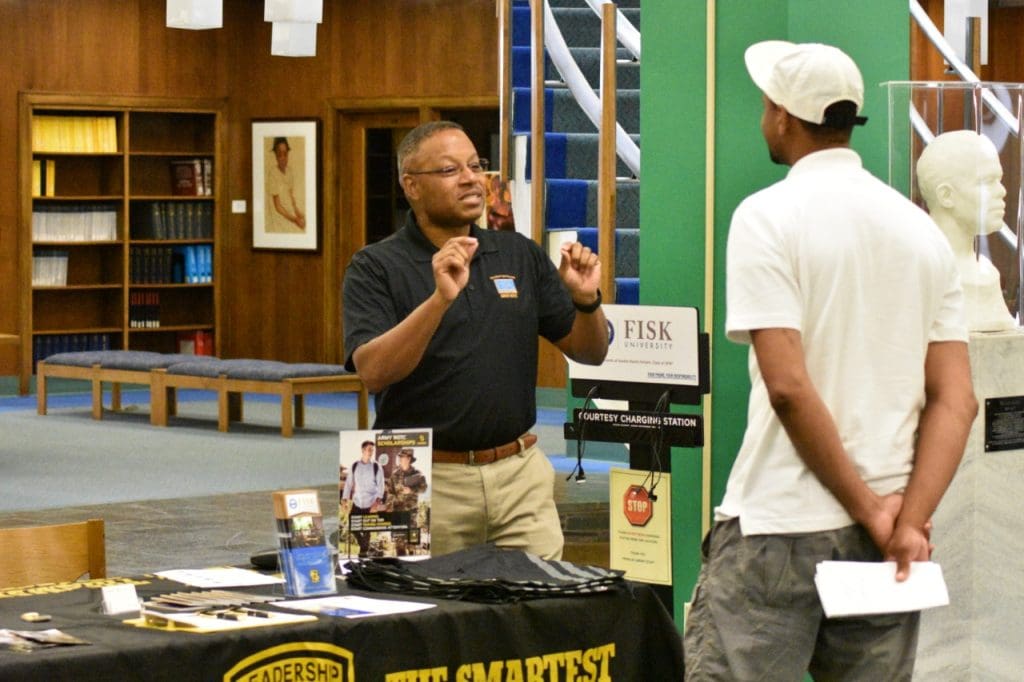 If you are a freshman, you can take the 1-hour elective course MC-PC 1210 Leadership & Personal Development. Sophomores can enroll in MS-PC 2150 Foundations of Leadership and earn 2-hours credit. Regardless of your major or classification, you can enroll in the courses. Enrolling does NOT mean joining the Army ROTC. But if the leadership courses pique your interest in becoming an Army Officer, you can opt to be considered for even greater ROTC benefits as early as next spring. These include:
---
•Scholarships which pay full tuition and fees
•Monthly stipend of $420 while in school
•Paid housing
•Travel, and more
To enroll in the leadership courses offered this fall, contact your major advisor, the Office of the Registrar, or go online in CAMS and add the course to your schedule. A great opportunity could be waiting for you!
Aaron J Bailey
1LT, AR Assistant Military Instructor
Fisk University/Vanderbilt University
(915) 861-4301
Darrell Thompson
Scholarship Enrollment Officer
Fisk University
(615) 343-7616 office
(615) 389-3247 cell,br/> Darrell.thompson@vanderbilt.edu