Fisk University Launches First On-Campus Food Pantry "The Red Door" in Partnership with Kroger and NMAC Delta Sigma Theta Sorority, Inc.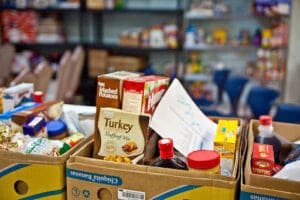 Nashville, TN- Fisk University is excited to announce the opening of its first on-campus food pantry. The launch of this pantry is in partnership with Kroger and the Nashville Metropolitan Alumnae Chapter (NMAC) of Delta Sigma Theta Sorority, Inc. The Pantry will be called "The Red Door" and will be open to all Fisk students in need. "Food insecurity can be a temporary issue and sometimes can be symptomatic of larger issues, with COVID creating extra hardships and people being laid off, we saw an increased need for food for students," said Fisk interim president Vann Newkirk. "We want to provide our students with a place where they will always have access to nourishment and because of this partnership with Kroger and the NMAC Delta Sigma Theta Sorority, Inc. we are able to do that."
Through its Zero Hunger | Zero Waste plan, Kroger is committed to addressing issues of food insecurities in the communities where they operate. "We realize that many college students struggle to make ends meet," said Melissa Eads, corporate affairs manager for the Kroger Nashville division. "We want to make sure students have access to food when they need it and are proud to partner with Fisk University and the NMAC Delta Sigma Theta Sorority, Inc. to help bring this on-campus food pantry to life."
The food pantry will be located on the 2nd Floor of Spence Hall for the time being. The pantry will be staffed by work-study students and additional volunteers from the student body as necessary. Students will need to use their ID to check in and are allowed two visits per month which provides them with two full bags of groceries each visit.
"The Nashville Metropolitan Alumnae Chapter stands with the Fisk University campus as we provide the nutritional needs to the student body," said Cleshette Hudson, the President of NMAC Delta Sigma Theta Sorority, Inc. Hudson also shared a quote from Dr. Martin Luther King Jr. that states, "Why should there be hunger and privation in any land, in any city, at any table when man has the resources and scientific know-how to provide all mankind with the basic necessities of life."
Fisk is proud to be able to provide its students with additional resources during such uncertain times, if you are interested in making a donation please contact our office of Student Engagement at studentengagement@fisk.edu.